In a show dedicated to choro (Brazil's swinging urban popular music), Ricardo Herz invites São Paulo's newest exponents of this fascinating instrumental music to perform together.  Repertoire is comprised of original compositions by Herz and choro classics dating back more than a century— with Herz's virtuosic violin soaring above traditional instrumentation of the violão de 7 cordas (7-string guitar), bandolim (mandolin), cavaquinho (soprano guitar), and pandeiro (tambourine).
Performers:
Ricardo Herz is a global violin revolution-in-the-making with his unparalleled originality, charm and swing!  He has created a deeply personal violin sound and technique that channels the folkloric sounds of rural accordion and fiddle traditions, the sinewy melodies of choro, and a deeply personal, instantly recognizable composition style.  Influenced by greats such as Dominguinhos, Luiz Gonzaga, Egberto Gismonti and Jacob do Bandolim, Herz's mix of Brazilian and African rhythms with jazz improvisation and contemporary composition has led to international acclaim.
Gian Correa- violão 7 cordas
Gian Correa is a young master of Brazil's dynamic 7-string guitar tradition. As a performer, composer, arranger and producer, Correa has worked with many of the biggest names in Brazilian music. He got his start playing the cavaquinho and soon moved to the 7-string guitar. In 2013, his first album of original music, Mistura 7, was released in the grand auditorium of São Paulo's central park (Ibirapuera) to great critical acclaim. In 2016, Correa recorded his second album, Remistura 7, at Estúdio Apodi — a multimedia CD/DVD production, and it was released at São Paulo's SESC Pompeia theater, also to great acclaim. In addition to performing and producing, Correa is an active teacher in the Auditório Ibirapuera music education program.
Henrique Araujo – cavaquinho e bandolim
Henrique Araújo is a melodic, harmonic, and rhythmic chameleon, equally at home on the cavaquinho and bandolim. Araújo has performed in festivals across Brazil and abroad with many of Brazil's most important musicians. He is a graduate of São Paulo's Universidade Livre de Música (2008) and FAAM (2013), studying music performance, conducting, and composition. In 2017, Araújo released his first album, "O Choro do Sertão," dedicated to the music of accordionist and composer Dominguinhos. Currently, he is the director and conductor of Carnavalesco Assim É que É, a carnival orchestra specializing in the music of choro's most famous composer, Pixinguinha, and is also a member of the groups Panorama do Choro Paulistano Contemporâneo and Batuqueiros e Sua Gente. Araújo is also an active teacher in the Auditório Ibirapuera music education program.
Rafael Toledo –  percussão
Rafael Toledo is the percussion heartbeat of São Paulo's vibrant choro and samba scene. On pandeiro and other hand percussion, Toledo has accompanied everyone from Eduardo Gudin, Carlinhos Vergueiro, Déo Rian, Gian Correa, Messias Britto, João de Almeida Neto, Roberto Seresteiro, to Henrique Araújo, and is a member of numerous other groups: Regional Imperial, Batuqueiros e Sua Gente, Banda Jazzco, and Cadeira de Balanço. His rhythmic swing has taken him to festivals across Brazil and across the world.
About Ricardo Herz:
Herz is a graduate in classical violin from the University of São Paulo, having laid his musical foundation at the Fukuda School in São Paulo beginning at age six. Since then, he has studied at the renowned Berklee College of Music (USA) and Centre des Musiques Didier Lockwood, school of the legendary French jazz violinist.
Since returning to Brazil in 2010, Herz has performed in musical collaborations with Brazil's most important musicians, such as Yamandu Costa, Dominguinhos, Nelson Ayres, and Proveta, and as a soloist with a wide variety of orchestras, including Orquestra Jazz Sinfônica, Orquestra Sinfônica de João Pessoa, Orquestra Municipal de Jundiaí, Projeto Guri, Orquestra Filarmônica de Violas, and Orquestra Breusil.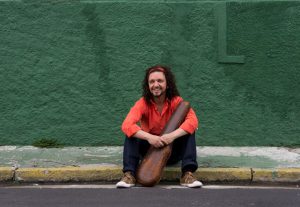 With his Ricardo Herz Trio, he has recorded two albums, Aqui é o meu lá and Torcendo a Terra. Herz has recorded a number of duo albums: with vibraphonist/composer Antonio Loureiro, accordionist Samuca do Acordeon, and pianist/arranger/conductor Nelson Ayres, and, most recently, virtuoso guitarist Yamandu Costa. He has also released an album of children's music, and performed this repertoire with the Cantilena Ensemble.
Herz is also a dedicated teacher and promoter of Brazilian violin. He has taught in diverse settings and recently launched his own online "Brazilian Popular Violin Course."